Parivartan 2010-11 Annual Report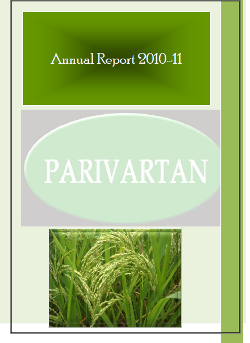 The fiscal year April 2010 to March 2011 was the time when the institution really felt the need to reframe the strategies and policies. Till now, Parivartan was much dependent on the outside project funding which formed the major part of the institutional budget. Hence, global recession from last two years had an adverse impact on India and social sector was not an exception to this. Higher impact of recession has been observed on project funding. Many of the partner resource agencies expressed their inability to support the interventions. So, this was a very crucial period for the institution to give impact of the present activities and to plan for future resources as well.
Still, there were some good endeavors to share. Interventions for livelihood rights of fisher and farmer community affected due to pollution in Lote industrial area took mileage. Availability of smart cards, vessel registration certificates, formation of fisher co-operative in the completion stage were some of the development factors for fisher community. Parivartan's intervention on 'Panchayats and climate change' helped in organizing villages from Khed on issue of climate change.
Strengthening women leadership through electoral process was another novel experience for us. Participation of women federation members in the process of community awareness through street plays was commendable. Another significant activity during this year under our technology transfer initiative was identification of possibility of using Reverse Osmosis (R.O.) technology for potable water scarce villages on Dabhol creek. Fisher hamlet from Pharare village in Dapoli block has been selected for the purpose. In next few months, R.O. plant will start functioning.
This year opened up some good breakthrough for livelihood enhancement activities. Ongoing project of SRI in partnership with SDTT was accompanied by Pilot Project on Agricultural Innovations and experience of SRI has enabled us to get into partnership with NABARD for promotion of SRI. We hope that these opportunities would give definite positive impact on the livelihood of the farmers. This year SDTT project reached 140 farmers from 28 villages in Kharif season and NABARD project has been worked out for 63 farmers from 5 villages in Rabbi Season.
Receiving "Konkan Samajratna Award 2010", given by "Konkan Bhumi Pratishthan" in "Advantage Konkan 2010" award ceremony was a prominent achievement for us as it is an acknowledgement of our work by our own Konkan.
Parivartan is thankful to all of them and many more who have enriched Parivartan's learning and guided us for mainstreaming justice and equality!