Resources > Success Stories > Women Federation Enforced Re-execution of NHIS >
Prolonged Struggle of Women Federation Enforced Re-execution of 'National Health Insurance Scheme' (NHIS)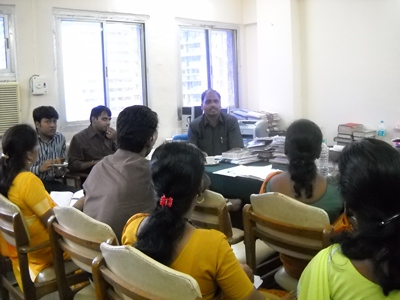 In Ratnagiri district NHIS was enacted in July, 2009 but it took almost 2 months to actually start the scheme i.e. August, 2009. The implementation of the scheme in district was so terribly poor that in March, 2010 also families in village didn't know about the scheme. They went to Sarpanch, asking about what they are supposed to do with the card they have got.
After doing follow up of the situation, people came to know that it is a NHIS which is meant to provide the health insurance coverage to BPL families for the period of one year. It then became clear that National Insurance Company (NIC) has greatly malpracticed the scheme in Ratnagiri.
Women federations across 4 blocks of Ratnagiri district have taken up this issue for advocacy. Based on their grievances, evidences and follow-up, fact Finding Committee was formed in July 2010. The Fact Finding Committee has clearly reported that NIC was guilty and recommended that the premium amount given to NIC should be reclaimed and it should be blacklisted. To take decision on the report of Fact Finding Committee 'Prime Secretary Committee' has been formed. This committee has recommended that NIC is guilty and complaint should be made to IRD at the level of central government and till then central government should held back their premium contribution payable to NIC. Concerned Ministry of State Government of Maharashtra has asked for the advice from Law & Order department regarding blacklisting of NIC and filing a case against NIC under section 420.
The scheme validity came to an end in October 2010. In Maharashtra except Ratnagiri and 6 other districts, the scheme has been re-executed by calling tenders. The consistent follow up of federation leaders received the assurance that their district would get the new Insurance Company very soon. Federation leaders didn't give up and they had three meetings with Hon. Chief Minister, Maharashtra State during December 2010 to April 2011. Meanwhile, Labor Minister, Mr. Hasan Mushrif also called a meeting with federation leaders, NIC and other concerned agencies. Federation leaders feverishly raised their concerns in this meeting till the Minister assured them that Government would definitely take action against NIC and within a month, the NHIS would be re-executed in Ratnagiri. Accordingly, on 13th January 2012, the NHIS has been re-executed in Ratnagiri, Sindhudurg and Nashik districts and MOU has been signed with ICICI Lombard Insurance Company.
This triumph is the effect of prolonged struggle of Simantini - Chiplun, Sahbhagita - Dapoli, Sanwadini - Mandangad & Sanjivani - Guhagar, these 4 women federations under the headship and guidance of Mrs. Shyamal Kadam, Secretary, Parivartan. This struggle would continue till the proper action on NIC is taken. As a part of the re-execution of NHIS, registration process would be carried out and new smart cards would be provided to the beneficiaries. Village Secretary & Day Care Center attendants have been given the responsibilities of assisting this process. We need not mention that implementation will have to undergo critical monitoring of these women federations.