Marching Towards Economic Security through Revolving Fund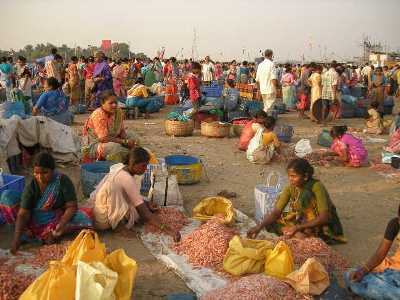 When we talk about taking efforts for livelihood enhancement of marginalized community through their direct participation in development processes, it becomes essential to secure their present livelihood so that they can have a space to get involved in the activities of livelihood enhancement. If the community is presently struggling for meeting the urgent basic needs of their families, their immediate participation in the program is quite unfeasible unless we provide solutions for their present aspirations essential for living.
Another crucial aspect is that the various activities for the economic development of the marginalized community need to be placed in a larger context of promoting secure and sustainable livelihoods. If the activity has to sustain then the income obtained from all these efforts must ultimately lead to satisfaction of primary livelihoods needs. Hence, as the scope of the intervention expands, designing and evaluating it from the livelihoods perspective becomes imperative. Adopting the livelihoods perspective implies looking at not only what households get? But also what they do to satisfy their needs? What resources they have entitlements to, to carry out the necessary livelihood activities? Hence, Parivartan has been trying to design its interventions in the area of economic development in such a manner that it leads to securing, sustaining, and enhancing natural resources based livelihoods.
One of the better options is provision of revolving funds for the basic livelihood requirements and the other option is linking these marginalized community with the banking/finance institutions, but the problem is demand for initial investment/seed capital from such institutions which is not feasible for marginalized people. If, this initial investment/seed capital is made available, scope for linking these people with such institutions is enhanced and better options are made available for livelihood enhancement.
To promote rural women entrepreneurship, they need to be encouraged by providing guidance, counseling and resources. Parivartan has initiated its efforts in this regard and the Oxfam has proved a great partnership for this through 'Community Initiative for Livelihood Enhancement' program.
Herewith, we are presenting an experience of Sumitra Juvale, a lady from fisher family who used revolving fund to makes her way to economic security easier.
Mrs. Sumitra Sadanand Juwale, 54 years old lady is from a fisher family residing in Govalkot Bhoiwadi of Ratangiri district. She has been struggling to meet her family needs as her husband is doing labour work and has been an alcoholic person. Family being very poor couldn't brought up their children (a son and a daughter) in well manner. Her daughter has been married and son, not being educated, is doing labour work like his father. The family was always under burden of loan rather interest on loan, as they had borrowed money from landlord.
From last 10 years, unavailability of fish in Dabhol creek has added to their problems. Sumitra used to buy fish from the wholesale agent on credit and sold them in Chiplun and nearby area. She used to walk 10-15 kms daily with a fish basket on her head. She was literally trapped because agent used to give her fish and charged 5% interest every month for the credit. She had no other option to meet her family needs. Sumitra had to sell all the fish she has bought from agent as she was not having any storage facility. She used to get Rs. 50-75/- per day from these transactions. Sometimes, she also had to face losses, if she couldn't sell the fish. In this meager amount, it was impossible for her to re-pay her debts.
Sumitra is a member of Saikrupa women SHG in her hamlet and very adored by other members due to her honesty and hard work. She used to participate in the programs organized by Parivartan for the SHGs. Likewise, in a SHG meeting, Parivartan activist introduced the concept of revolving fund. Sumitra thought about taking a loan from R.F. and also decided about the plan of utilization of this money. Accordingly, she expressed her thought in a meeting. SHG recommended her name and she got loan of Rs. 15,000/- from R.F.
Sumitra neatly utilized this amount for purchasing fish from wholesale market; she also purchased an ice box. Sumitra broke up the chain of agents and started to buy fish at much better rates. Now, even if she couldn't sell the fish on the same day, she stores it in an ice box and sells them the next morning. When this routine was set up, Sumitra's daily transactions started giving her Rs. 150-200/-. She properly administered the income now and repaid her debts with landlords within 6 months. Sumitra is very particular about repayment of loan from R.F. and till now has repaid Rs. 5000/-.
Sumitra says, "After paying off the complete loan of R.F., I wish to take a loan of bigger amount from R.F. and enter into wholesale fish business along with my door to door fish sale activity. If there wouldn't have been support from R.F., I would have never been able to raise this capital". While saying this, hope for the better future twinkled in her eyes.
Many Sumitras from fishing hamlets are waiting for this opportunity. Lets give them the support they need to secure their present needs and dream for the better future with the help of Revolving Fund!