In India, women constitute a major socio-cultural and economically oppressed group and an equitable social order can never be established unless the equal rights for both women and the men are recognized in society. With this vision, Parivartan has been successfully undertaking holistic actions for women's empowerment, which has led to development of a women federation model. Parivartan works intensively with women on its belief in the philosophy that sustainable development remains incomplete without active participation of the women.
Women Empowerment Process
The intervention was initiated by Parivartan 9 years back i.e. in 2003-04 in Mandangad block of Ratnagiri district with only 16 women headed Gram Panchayats (GPs). Mandangad being the block facing acute water scarcity, 'Water' was chosen as the key issue to start with. "The direction and opportunities of Village Development - Problems and Remedies" was the basic theme of the initiative and facilitating the women leadership in bringing about fair village development was the main strategy.
Strategies Adopted -
> Providing uninterrupted knowledge inputs through trainings & workshops.
> Building confidence & facilitating experience sharing through Women Leadership Development Workshops.
> Building rapport with Gramsabha.
> Disseminating schemes' benefits to weaker sections in village.
> Strengthening active support structures like women Self-Help Groups, Women Development Committees.
> Mobilizing women Gramsabha and General Gramsabha.
> Formation of block level women federations those are active over the issues in governance.
Strengthening Women Leadership & Promoting Good Governance
Social sciences have approved that women contribute a major share in the process of social reforms. Parivartan too experienced this ever since it's early years. The opportunity to participate in local self-governance is not only a step towards women empowerment, but actually an opportunity to restructure the nationwide systems of governance.
Since last 5 years THP, Delhi and Parivartan's interventions form a reliable source of knowledge, information, skills and absolute energy to the women in governance. Along with Panchayat Raj trainings, leadership development workshops, village level actions & hand holding support remained our major thrust area. Starting with a small village level supports structures like SHGs, women leaders have made journey up to a well-structured block level federations.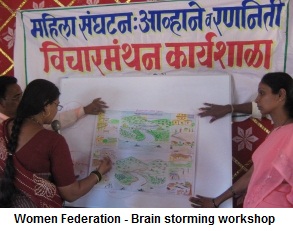 The next big chapter was trainings & workshops to suffice the women leaders' needs of knowledge, information & skills in order to maneuver the process of effective governance at village level. Trainings & workshops on Panchayat Raj & Women Leadership Development Workshops supplied first dose of leadership skills to the newly joined EWRs. Workshops on organizational skills & federation functioning were arranged at block levels to bring about efficient activities of federation. These trainings were especially helpful for regulating the systems of the block level federations. And the last and most important component of the chain was the issue & advocacy based workshops. Through these workshops the women leaders strategically planned and coordinated their issue based actions to promote good governance at village level. The TOT has helped them emerge as a confident and well informed trainer on the village governance and development.
A desperate need for an association was felt, which would boost their confidence, give encouragement, facilitate sharing among women representatives and give them collective strength to have a greater demanding and negotiating power. After the establishment of federations, which have given them considerable encouragement and provided a platform to unite, their conditions have improved considerably. Political participation in the local bodies has transformed the lives of the women in terms of empowerment, self-confidence, political awareness and affirmation of identity.
The federation at every block acted as a key media to support women leaders to propel the village level actions. Thus, federation meetings played pivotal role in issue identification, strategic planning, spotting training needs and finally co-ordination & monitoring the actual action and its follow up.
Federation - Platform for Strengthening Women Leadership for Good Governance
Being able to achieve participation, support & acceptance by key components in the village, especially by women citizen, these women leaders have set new standards of leadership in terms of open access to all over the available resources & decision making.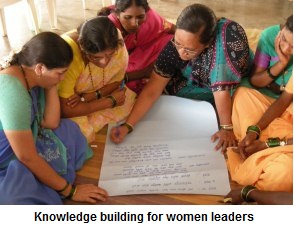 Devolution of women leaders' learning & experience to the next cadre of emerging women leadership is largely being projected by the federation. Besides, an enabling & conductive atmosphere for women leaders is being created in villages. Federation is making a committed journey to achieve the broader objectives of strengthening women leadership for a social justice.
With the formation of village level federation, the issues are being identified and addressed in a much effective & organized manner. Accelerated & simplified chain of action oriented information dissemination is the major output of federation. Along with acting as pressure groups for good governance, federation has also imparted sense of responsibility that reflects by the significant participation in Gramsabha and women Gramsabha.
Federation leaders, with members have been marked to conduct various issue based campaigns like, right base approach for women to access various resources, electricity, regular & transparent PDS, reliable health services, quality education, sanitation & potable water supply, addiction free village & lastly for ensuring the smooth functioning of all these pro-people governance & administration.
Intervention strength
The intervention strength has reached the number of 149 women sarpanchs & women headed GPs & 16 GPs having women deputy sarpanch. 352 women GP member formed an inevitable part of the initiative. This was even strengthened further with the participation of 154 block level federation members & 288 village level federation members from the four blocks. Currently 184 SHGs are offering space to shape up (SHG members 2660) women confidence and perspective regarding village governance. It has also served as a platform for 552 SHG leaders to enhance their leadership abilities. The total reach out of THP-Parivatan's initiative exceeded over 2660 total number of women in 165 villages.
The federation activities are ultimately taking roots in all the blocks leading to strengthened women leadership. This has enhanced the level and quality of women participation in the entire development processes at village level.
Transformations Observed -
> Participation of women citizen in Panchayat governance
> Making the Panchayat more accessible to women and weaker sections
> Prioritization of development needs
> Stressing the basic needs like water, health & sanitation, education, livelihood
> Imparting a cultured image to Panchayat
> Making the bureaucracy more responsive & responsible
> Making the village governance transparent & accountable to people
> Assuring corruption free governance
> Equal & justified opportunity to every village component
> Changing gender equations at household and village level
> Making the women organized, aware & active on decision making
> Devolution of women leaders' learning & experience to the next cadre of emerging women leadership
Milestones -
> A booklet on women leaders' case studies was compiled. This booklet features the stories of real women leaders who came from more or less similar family backgrounds, but facing differing set of external environment as an elected representative.
> A documentary film on women sarapanchs, "Mee Bai Sarapanch" [I am the sarapanch]. The documentary features the slow & steady change taking place in lives of rural women in corners of Ratnagiri district. It speaks about the new found opportunity for women to lead the villages, as up till now they have been successful leaders for their families. The documentary reveals the traits of emerging women leaders in villages, their inadequacies & strengths, initiatives & expectations, struggles & supports, victories & defeats! It is a sincere attempt to divulge & acknowledge their devotion for development!
> Representing Indian EWRs at 30th anniversary celebration of The Hunger Project, New York: Pranita Jangam (former Sarpanch, Dahagaon, Mandangad) attended & addressed the 30th anniversary celebration on 13th & 14th October 2007 at New York City. She was one among the chosen 4 speakers from all over the world. She represented nearly 65,000 EWRs in India to whom THP extends facilitation support. Her inspiring experiences explored the women leadership in India. The opportunity Pranita lived is a reward not only to her but to millions of women leaders in India committed to eliminate hunger, poverty, and inequity from the families, communities & villages.
> Souvenir Publication of Federation: Sanwadini federation of Mandangad block held their souvenir publication ceremony on 9th April 2009. The ceremony was graced with the presence of bureaucrats, social and political leaders. Ceremony deliberated discussions on the development dilemmas and exertion of federation on these issues. Sanwadini federation's vivid progress has built up the confidence of federations from other 3 blocks.
> Prolonged struggle of Women Federation enforced re-execution of National Health Insurance Scheme (NHIS) for Ratnagiri district - Federations had unwrapped the malfunctioning in NHIS in Ratnagiri district. They have consistently followed up the issue at state level and finally succeeded in getting the scheme re-executed for Ratnagiri district and built pressure for punishing the culprits.
Strengthening Women Federation - Future Direction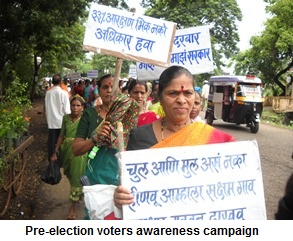 Several social conditions have systematically hindered and undermined the roles of women, denying them the voice and opportunity to participate in public life. Though the revolutionary constitutional amendment seeks to transform Panchayats into 'little republics' and has recognized the need for women's leadership, in reality there are numerous obstacles faced by the elected women representatives. We seek to address them by strengthening their role in grassroots governance to enable them to assert the rights of everyone in their community.
The elected women leaders that we have worked with in last 9 years, have shown phenomenal leadership ability amidst all odds. They have struggled to bring water, health and education to their villages despite of rampant pressures. They have constructed roads and provided clean drinking water to their communities. These elected women representatives are slowly but surely changing the development agenda of their villages.
These elected women leaders need support and mentoring so that their leadership is strengthened. Their elected representative tenure comes to an end generally after 5 years and very few of them get a chance to continue their political career in Panchayats or upper tier of governance. It is also essential to provide them a strong leadership platform to instrument their enhanced leadership for betterment of their community and village as a whole and federation is one such platform.
There is a need to provide women federation leaders with specific kinds of support which go beyond technical training. They get support to build solidarity amongst them, through strengthening links between federations. It is also necessary to strengthen women's sense of common identity by articulating the elements of a feminist consciousness and presenting it as the special quality of women's leadership.
The Key Objectives
> To mobilize the federations to act as an advocacy and influence group promoting the interests of local governments and decentralization process
> To establish linkages amongst federations to support each other, mobilize support in a combined manner and share experiences
> To encourage women's participation in governance and management of basic services (health, water and sanitation).
> To expand and strengthen network of grassroots women's groups to scale up women's leadership and participation in activities
> To strengthen federations and make them sustainable