Programs > Community Response to Establish Rights over Natural Resources >
Community Response to Establish Rights over Natural Resources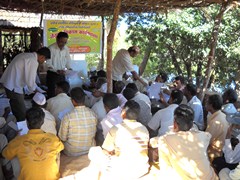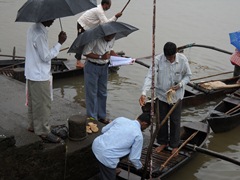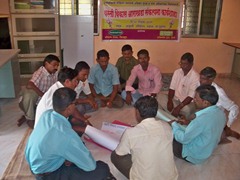 Aim
Marginalized communities along the coastal areas of Ratnagiri district of Maharashtra are empowered to demand, exercise and protect their livelihood rights.
Partner Institute
Oxfam Trust, India. (Parivartan has been working with Oxfam from the year 2005. This project is an ongoing activity from 2006. Parivartan has also implemented Risk Reduction Programme in partnership with Oxfam for 3 years.)
Objectives
a. To strengthen the leadership of traditional fishing and marginal farming communities affected by excessive industrialisation in the coastal areas of Ratnagiri district for exercising their right to access, use and manage natural resources for their livelihoods
b. To mobilize mass support and state recognition for the struggle of protecting natural resources like land and water, which form the main source of livelihood for local people in coastal areas of Ratnagiri district
c. To identify and strengthen women leadership from fisher community to take initiative to exercise their rights as citizens and build their capacities for securing present livelihood
Geographical Coverage
42 fisher hamlets on Dabhol creek across four blocks & 9 farmer villages from Lote Industrial Extension Area.
Project Description
This programme deals with the issue of livelihood rights of the fisher community from 42 fisher hamlets on Dabhol creek across four blocks namely, Chiplun, Guhagar, Khed & Dapoli and from 9 farming villages from Lote Industrial Extension Area (Proposed HPCL Refinery Project Area).
From last three years, a strong mass base has been created from amongst community members and a considerable degree of networking with intellectuals and sympathizers concerned over the issues of Dabhol creek pollution has been achieved. Hence, through this programme, its proper time to activate these pressure groups to get the positive results on the issues. On local level, capacity building of People Organizations on technical and legal aspects of social monitoring in the developmental processes would be one of the core activities of the project.
Facilitating mass support to the struggle of isolated affected communities is another objective of the project. Hence, linking the intellectuals, sympathizers and experts on the issue and mobilize their strengths for supporting these struggles would form some of the activities of the project. For appropriate mobilization of pressure groups, interfaces with district and state authorities would take place.
Women although being near about 50% of total population are binary underprivileged (being women and that too from underprivileged community). Development of community as a whole is not achievable unless we deal with issues of 100% community members. To make women aware about their rights and create a platform for their voices is the core objective of the project and accordingly proposed activities include capacity building of women in terms of leadership.