Programs > System of Rice Intensification >
Pilot Project on "System of Rice Intensification" under Farmers Technology Transfer Fund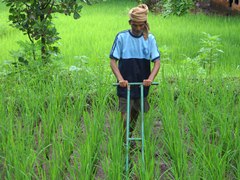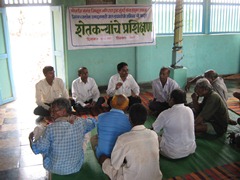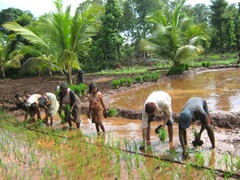 Aim
Enhanced food security.
Partner Institute
NABARD (National Bank for Agriculture & Rural Development), an apex institution in the field of agriculture and rural development has identified Organic Farming as a thrust area and has taken various initiatives for its promotion. (Parivartan is implementing this project from 2010).
Objective
Promotion of SRI through demonstrations, awareness, technical and material support to achieve enhanced food security of small & marginal farmers & families
Geographical Coverage
16 villages of Khed & Chiplun block in Ratnagiri District.
Project Description
One of the key strategies to promote SRI technology is to focus more on small and marginal farmers involving necessary capacity building, hand holding through on-site technical guidance and credit/financial support. Such intervention is critical both for improving the individual farm income and overall production of rice at macro level. Taking these aspects into considerations a model is expected to evolve for coverage of 560 farmers with an area of about 192 ha spreaded across 16 villages in coming three years. The salient features of the model are indicated below:-
Model Unit
> Coverage of 400 farmers in the first year (25 farmers per village and 16 villages)
> The demonstration is expected to motivate another 10 farmers per village to join the programme in the second year i.e. 160 farmers from 16 villages increasing the outreach to 560 from second year onwards.
> It is assumed that a farmer joining the programme in the first year will adopt SRI methodology in 0.12 ha, which will increase to 0.20 ha in the second year and to 0.40 ha in the third year.
> The programme provides for a total coverage of 48 ha spread over in 16 villages in the first year, which will increase to 112 ha in the second year and to 192 ha in the third year, which has been taken as a unit.
> Effective dissemination of technology and follow-up is ensured with four SRI coordinators, each covering 4 villages (160 farmers) and one project coordinator for every unit.