India has made substantial investment in Science & Technology education and research but the benefits of this huge and continuing investment do not flow to all sections of our society in equal and fair manner. While part of our nation lives in the late 20th century, another part is still living in the medieval ages and no nation can progress much beyond the "national average". When these differences are too wide, they create not only social tensions but slow down the progress and make it expensive, as we are finding.
Over the past 50 years, a large indigenous Science & Technology (S&T) know-how has been generated in various national laboratories and at the same time several technologies have been imported. Urban sector has received the highest attention; deployment of large number of these technologies and know-how in urban areas has resulted in rapid urban development leading to urban rural divide in terms of prosperity and opportunities. Further, India's young population is expected to be the largest in the world in decades ahead, over 500 millions. Creating gainful and productive work for them is the greatest challenge. Technical know-how generated in national laboratories related to basic needs such as water, food, energy and environment has been underutilized. Deployment and adaptation of this know-how to the rural needs could provide a creative opportunity for expected 500 million youths in rural and urban India to contribute to the national wealth with prosperity for everybody including villages.
We should get more S&T efforts channelized to developing the backward regions and sections of the society. We should spread scientific methodology through education to all sections of society in a way so that it is absorbed into the culture. If these things can be done, lot of benefits will flow even from the existing S&T establishments to rural societies.
The basic need of opportunities for innovation, work and entrepreneurship for the rural areas can be accomplished by channelizing modern indigenous know-how and technologies through structured program. This will enable the villagers to deploy and make use of the technologies with local adaptation for themselves, which itself will generate village entrepreneurship and make this activity self-sustaining and wide spread. In-turn, it will create a strong, wide spread network for embedded innovative S&T culture in rural areas.
Parivartan's experience
The scope of work on technology related activity covers both farm and non-farm areas such as propagation of new crop varieties, agro-processing, preservation, water management, soil testing and improving land fertility etc. Agriculture, horticulture, floriculture and agro tourism have potentials to become future growth engines for the holistic development of agricultural sectors in Ratnagiri district. These goals may be short, medium or long term depending on the need and available resources.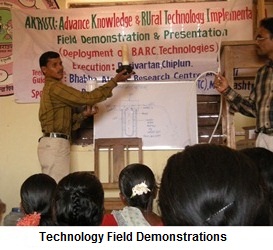 Advance Knowledge & RUral Technology Implementation (AKRUTI) program is being implemented by Parivartan in Ratnagiri district from April, 2007. Under this program, Parivartan has initiated efforts for deployment of technologies like Nisargruna bio-gas plant, water purifying, soil testing and solar drying. Parivartan has set up Nisargruna bio-gas plant which has become functional in June, 2008.
Parivartan has formed Knowledge & RUral Technology Implementation Kendras (KRUTIKs). KRUTIKs have facilitated the link between the rural community and the technology developed in Research Centers. KRUTIKs not only deployed the technologies for rural development but also developed an optimistic attitude amongst the rural community especially farmers and women. Force groups which are functional under KRUTIK are mobilized for implementation of technologies meant for rural development.
We have a ready demonstration center spread across the area of 9.5 acres for the BARC technologies like Nisargruna Biogas Plant, Foldable Solar Dryer, Domestic Water Purifier, O. M. (Organic Manure), Soil Organic Carbon Testing Kit, Reverse Osmosis Plant (distillation plant for brackish water), Isotope Hydrology and various agricultural and horticulture plantation.
Future direction
We intend to build a Resource Center for propagation and usage of technologies at wider span. This resource center will provide intensive and comprehensive training of technologies to community. It is possible to make available the financial assistance for trained person who is unemployed, needy and less educated by various financial institutes or government organizations such as state government & ZPs. If the financial assistance is provided to community member who has acquired thorough knowledge and self confidence through this resource center, it will develop resources and generate employment opportunities for community as well as the region.