Programs > Strengthening Women's Leadership in Panchayats >
Strengthening Women's Leadership in Panchayats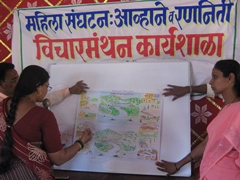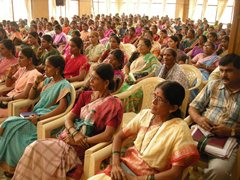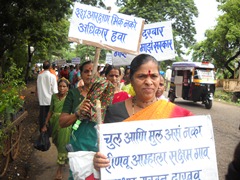 Aim
Intensifying efforts on enhancing internal capacities of Elected Women Representatives (EWRs) to initiate enquiry into areas of critical concern for women and underprivileged community
Partner Institute
The Hunger Project, New Delhi. (Parivartan has been working with The Hunger Project from the year 2004 initiating its intervention in 1 block of Ratnagiri district, which has now reached to cover 4 blocks.)
Objectives
> To strengthen EWRs' federation to resolve the issues related to local governance.
> To sharpen the skills of EWRs for effective planning & implementation at Panchayat level.
> To build the capacities of EWRs to make the governance responsive, responsible and transparent at village and block level.
Geographical Coverage
25 women headed Panchayats from 4 blocks of Ratnagiri district viz. Chiplun, Dapoli, Mandangad & Guhagar.
Project Description
Previous year, EWR's federations were formed in order to handle the issues effectively across 4 blocks. The leaders have obtained requisite confidence to take on their routine in Panchayats. Federations brought about an opportunity for learning and instrument this learning for the community cause. EWR federation leader's uniqueness among other Panchayat members can be identified by their style of work, knowledge and informed participation.
It was essential to engage them in development issues of their villages so that their sharpened leadership can bring fruits of development to the community. It was necessary to guide and support them in order to bring forward action plans and their implementation. This year activities would suffice this through need based workshops. This is the right time to build their rapport with the administration as they are informed and are giving aware participation in Panchayats. Interface with line departments would create a space for building rapport with the administration. Ongoing support for overcoming the hurdles in development would be given through quarterly federation meetings.
Ongoing action plan comprises mainly of being in touch with EWR federation leaders, facilitate sharing between EWRs and Non-EWR federations, creation of support structures for EWRs at village level through SHGs and Women Development Committees. Empowering Gram Sabhas and Women Gram Sabhas would be the ongoing agenda which would be followed up through quarterly meetings.