Climate Change Issues in Konkan Region
The Konkan region is a narrow coastal belt in state of Maharashtra adjoining the Arabian Sea. The Sahyadri mountain ranges run from north to south & divide this coastal region from Deccan plateau. The number of rivers emanates from mountain & flow from east to west. In Konkan region, scarcity of potable water, deforestation, heavy rainfall, flood, water pollution due to release of harmful effluents by the chemical industries are some of the major issues.
People in Konkan, especially the marginalized, are highly vulnerable to the impacts of climate change, primarily because the Konkan's economy is so closely tied to its natural resources. Most of Konkan's marginalized community, living in rural areas, is almost totally reliant on natural resources for their food, shelter and income. They are already experiencing the impacts of climate change, with few resources to cope. Recurrent floods and drought in the plains, changes in summer and winter temperatures, monsoon timings and unpredictable rainfall are affecting a wide range of sectors, especially agriculture and horticulture. Diminishing water levels, frequent natural disasters, deforestation, land & food insecurity, air & water pollution and migration are some of the major impacts that are playing havoc with the lives of people in Konkan.
For women in particular, impact of climate change means more hardship. In the villages, women constitute more than 50% of farm labour and contribute to the agricultural economy. They are also responsible for fetching safe drinking water, collect firewood, and other natural resources. When natural disasters strike the marginalized families, not only does the workload of the women increase but they are also at risk of losing opportunities to participate equally in the development.
Perspective
It is very crucial to understand the significance of climate change and take remedial steps to prepare the community to deal with the issue. This has become the need of an hour. It is therefore essential to build the capacity of grass root level to ensure environmentally sustainable development of village, following the 'bottom up' approach. The development of each village with a long term vision based on current demographic, social, cultural, educational status of the village and giving due considerations to economic, agricultural, industrial, tourism and ecological potentials of respective villages is necessary. We need to ensure that the natural resources of the village are not adversely affected and are preserved for the generations to come.
Parivartan's Experience on the Issue of Climate Change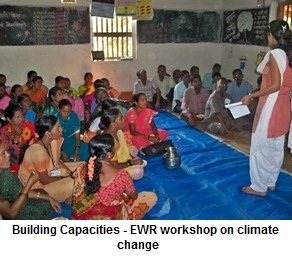 Parivartan has worked on raising awareness about climate change issues with elected women in Gram Panchayats and civil society. The intervention covered 25 women headed Gram Panchayats in Khed block of Ratnagiri district, targeting about 69 EWRs and around 20,000 rural population.
The efforts aimed to build the capacities of the elected women leaders to understand climate change issues and its impact in their own villages. This has enabled them to exercise their leadership and take steps to reduce their vulnerability as well as formulate strategies to mitigate the climate change risks with the help of people & Gram Panchayat. Following are some significant activities that were carried out during the program,
> One days awareness Workshops with EWRs
> Baseline Survey in 25 GPs.
> Developing IEC Material for awareness
> Climate Change Camps
> Street Plays & Padyatras
> Environmentally Sustainable Village Development Plans for 5 Panchayats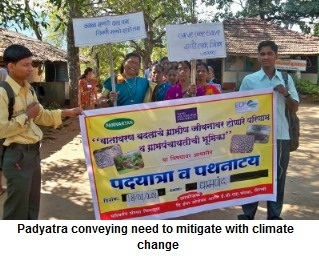 The program proposed a three-fold strategy to impact a large population - EWRs, civil society, youth amongst others in the community to generate awareness on Climate Change. Awareness workshops were organized for EWRs from 25 women headed G.P.s in Khed block of Ratnagiri district to highlight the present symptoms of climate change, to explain environmental, social and economic impact of climate change and to draw action plan to increase the community preparedness to cope with the challenges of climate change.
This programme had sensitized the EWRs to identify the problems of their Panchayat & imparted confidence in them to solve those problems. The issue of climate change was never given importance at village level however the EWRs are now very much aware about the issue & have started getting support of community as well. The program has proved to be a platform for the EWRs to demonstrate their potential & gain support of community. We have initiated efforts to promote environmentally sustainable village development through people's participation.